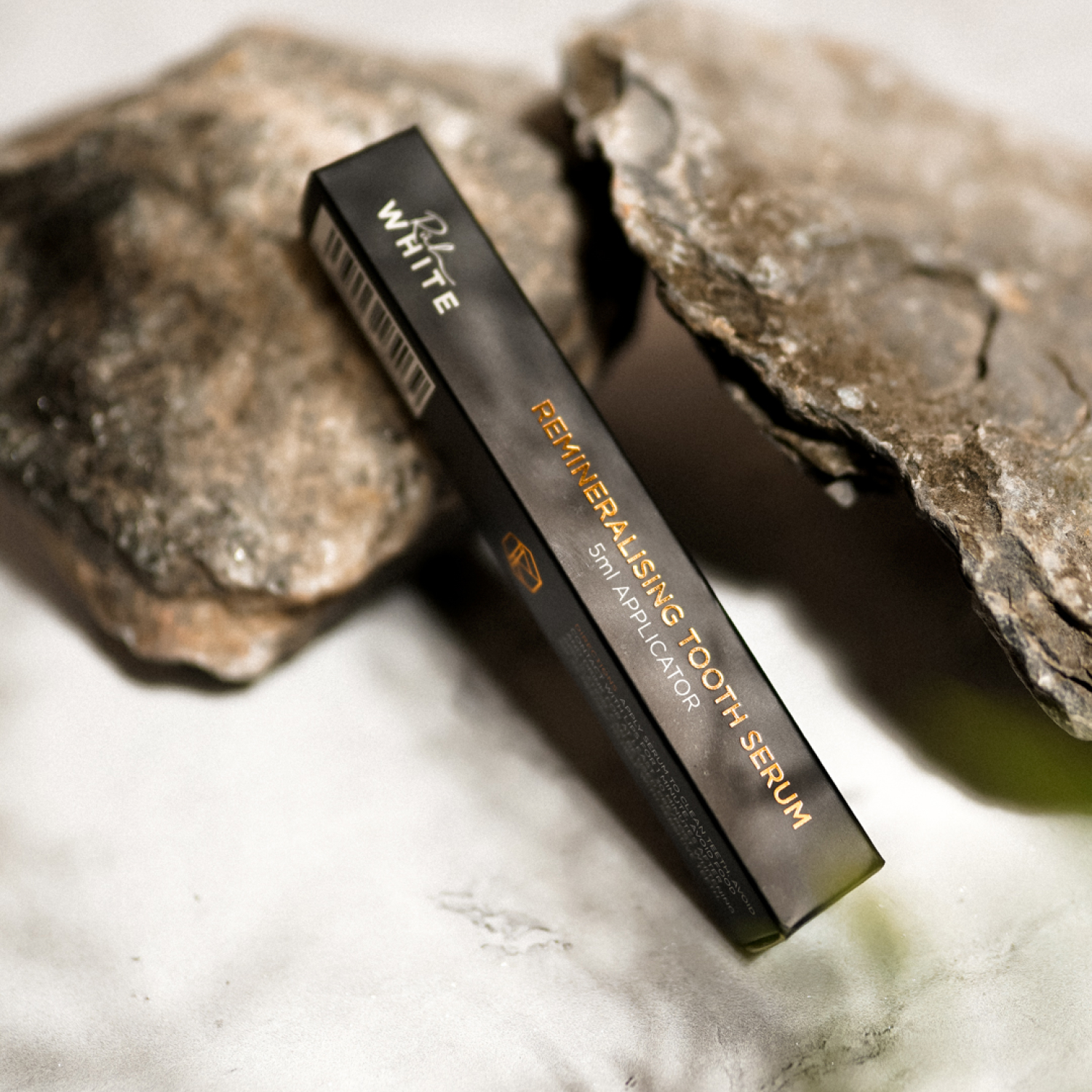 SHOP
5ml Remineralising Tooth
Serum

Applicator
5ml Remineralising Tooth Serum Applicator
Our versatile Tooth Serum can be applied pre or post whitening to help remineralise teeth and reduce sensitivity. The serum contains hydroxyapatite, the main building block of teeth, which helps to create a protective barrier, reduce sensitivity and improve tooth strength. With potassium citrate and calcium.
£19.95
| | |
| --- | --- |
| INGREDIENTS | BENEFITS |
| Aqua | Essential component of serum/paste |
| Glycerin | Humectant- keeps the serum moist |
| Peg-8 | Humectant- helps keep the serum moist |
| Xylitol | Sweetener- also has anti bacterial properties |
| Potassium Citrate | Helps with sensitivity |
| Hydroxyapatite | Natural component of tooth enamel, helps remineralise teeth |
| Sodium Acryloyldime Thyltaurate/VP Crosspolymer | Thickener |
| Polysorbate 20 | Surfcactant- foaming agent |
| Sodium Fluoride | Helps to prevent cavities/decay |
| Mentha Arvensis Leaf Oil, | Natural flavour |
| Sodium Saccharin | sweetener |
| Calcium Gluconate | Helps prevent tooth enamel erosion |
| Mentha Piperita Oil | Natural flavour |
| Tocopheryl Acetate, | Vitamin E |
| | |
| | |
Should you wish to return an unwanted item, please note you must return the product within 14 days of the dispatched date.
All returns must be sent back in their original unused, unopened packaging. We reserve the right to refuse a refund if the items are returned in damaged or in a non-saleable condition.
This does not affect your statutory rights.
Any queries relating to returns of a product please email lifestyle@ruhdental.com
Frequently asked questions
Is teeth whitening right for you?
To have teeth whitening you must have a dental health examination prior to treatment.
Can teeth whitening be painful?
The whitening process is not painful and instead some sensitivity can occur. Sensitivity does subside when the treatment is complete. In order to help with the sensitivity, you can use our Remineralising Serum Applicator. Please contact your Dentist should you experience high level of discomfort and pain.
Will I achieve the whitest shade?
The result varies between individuals depending on lifestyle and habits. The Dentist will provide you with further instruction.
Will my porcelain, crown, bridge or fillings also whiten?
Unfortunately, the whitening agent will not change the colour of any artificial material in the teeth or mouth.
How long will the results last?
Post whitening results vary from person to person. This also depends on how well the teeth are maintained. We often advise top-up applications 6 months - 1 year depending on the individual. Contact your dentist to discuss topping up further.
Do I need to keep a white diet?
We do advise when whitening your teeth ensure you stick to a white diet and avoid most coloured food throughout the procedure to prevent staining. The following should be avoided:
• Red wine
• Ketchup
• Tea / coffee (drink using a straw if you cannot abstain) • Turmeric
• Tobacco
Are there any contraindications?
If there is any tooth decay, gum disease or any other oral health related issues, we would advise to avoid whitening until this has been treated. We also advise patients who may be pregnant or nursing to avoid whitening. This can be discussed further with your dentist.
Is an oral hygiene appointment required prior to whitening?
We advise all patients having whitening treatment to have a hygiene appointment prior to starting whitening. This will ensure all staining is removed to help provide you with the best possible outcome.
Is teeth whitening safe?
Whilst whitening is a safe treatment, we do advise that you see your dentist prior to having any whitening to ensure you are dentally fit to proceed. Whitening is not suitable for pregnant women, mothers who are breastfeeding and under 18 years of age.